How strong is your brand, does it reflect your company and who you are? Finding products to give to your internal and external customers that truly reflect your brand can be challenging. How do you choose the right product? What's the newest craze that your customers will use without breaking the budget? If you find yourself asking these questions for 2021, we're here to help.
If you missed our Brand Discovery event, don't worry - I am here to give you all the juicy details on the great gifts we gave away! And yes, we give the best gifts, all staying within our budget. Don't just take our word for it, here's what one of our customers said:
"Your team is amazing at gift giving. Probably the best around!"

Amber
Thinking of ideas for customer gifts can be daunting! That's why we put together an "Idea Box" to spark ideas to take your brand to a new level.
Spending time outdoors was one of the few things everyone could do in 2020, and that has carried over into 2021. Giving gifts to your customers for their trek is a great way to keep your brand top of mind. So, we packaged four hot new promotional products customers and employees can use for any adventure.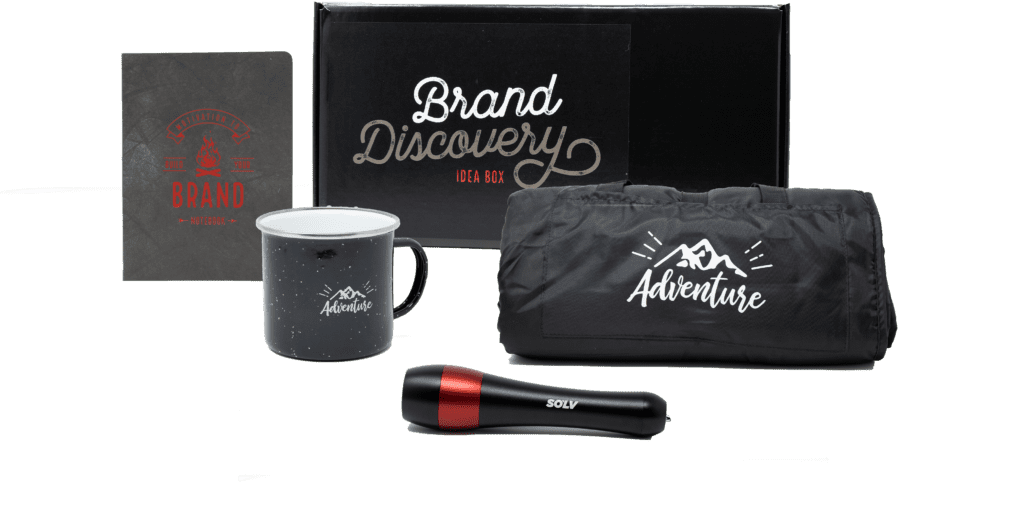 The classic yet steady favorite camp mug is a must have for any adventure. Tekweld's 16oz. Iron and Stainless-Steel Camping Mug is a great way to have your brand seen everywhere. The classic speckled finish will enhance your logo with seven cup color choices.
We all need to take a break when on an adventure and what better way than on a Buffalo Plaid Fleece Picnic Blanket from PCNA/Leeds? Soft and cozy on the top and waterproof on the bottom to keep you dry. This blanket folds up to tote size to fit easily in a pack or carry with attached straps.
For those customers who like to take overnight adventures, having light in the dark is essential. The Magnet Group's Giant Contour Flashlight is true to its name. This flashlight is kind of a big deal, guaranteed to guide you through the dark and its sleek, stunning design enhances any logo.
For those who like to journal on their adventures, High Caliber Line's Crossover Outdoor Tough Waterproof Journal is a perfect match. If you're like me, constantly spilling water or dropping things, don't worry - this journal is completely waterproof. We tested it! So, write to your heart's content, and rest assured that your words will stay dry.
If you would like our help finding great customer gift ideas and ways to discover or enhance your brand, we're here to help you. Send us a message and one of our Account Executives will get in touch with you. Let's Discover your Brand and start your Adventure!