Marketing with direct mail is both an art and a science. It's not enough to just say something about your product anymore - you have to come up with new, unique ways of breaking through the clutter and communicating with your prospective customers.
Incorporating direct mail into your marketing combats digital burnout
We're all inundated with electronic messaging all day long, and the field is only getting more crowded. Direct mail cuts through the digital clutter and is easier to process, making it more likely to be opened and remembered.
UP TO 90%
of direct mail gets opened, compared to only 20-30% of Emails.
-- Data & Marketing Association --
75% of consumers can recall a brand after viewing a piece of direct mail.
ONLY 44%
can do the same after seeing a digital ad.
-- Marketing Profs --
Direct mail requires
21% LESS
cognitive effort to process than emails.
-- Canada Post --
How to get the most out of a direct mail marketing campaign
To get the most impact from your direct mail campaign, get creative and go beyond the typical. How can you go all-in on the ways a printed piece is different from an email or a web page? It's going to stand out more if it's visually striking, but how can you take that one step further?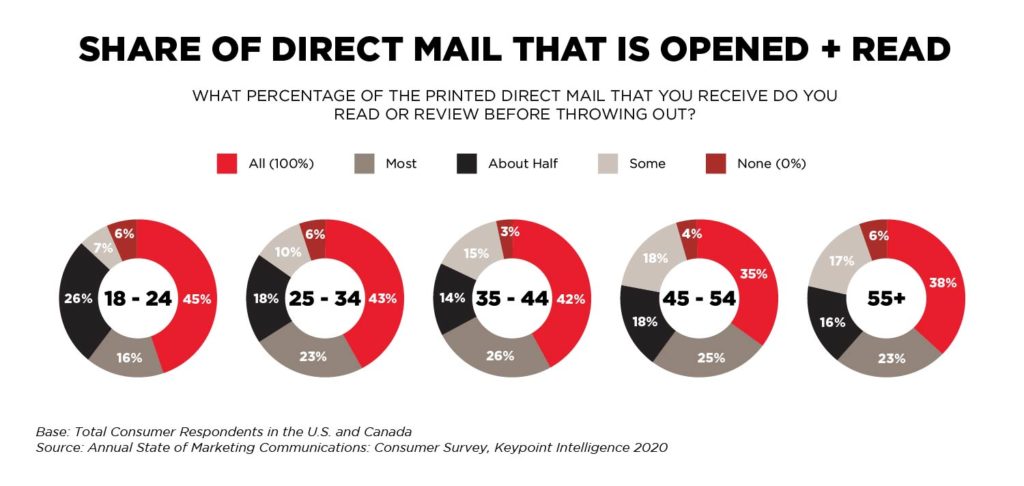 Engage the senses
Take advantage of the fact that you're putting something physical into your customers' hands. Use qualities like the thickness, weight, and texture of the paper to enhance the feeling of your piece.
You can also add soft-touch coatings, spot varnishes, foil, and other special effects to elevate the look and feel of your messaging. It's amazing how your direct mail piece stands out when the light hits those coatings at different angles!
It's even possible to experiment with scent to add a completely new level of emotional and sensory impact. Imagine a direct mail piece that smells like a fresh-baked chocolate chip cookie. Wouldn't that engage your curiosity?
Use your mail campaign to surprise and delight
With all the improvements in digital printing technology over the past few years, it's easier than ever to make your direct mail piece stand out and get noticed. Direct mail can help you cut through all of the distractions from screens and phones and recapture attention. Shapes, folds, textures, spot coatings, and even scents - the possibilities are endless, and the only limit is your imagination!
If you'd like more ideas about how direct mail can help you reach your customers, leave us a message - we'd love to help.