Looking for creative trade show strategies to make the most of the time and money you put into events? Want your booth to be the hottest "can't-miss" attraction generating buzz at your next trade show? Discover how to build the ultimate trade show survival kit that ensures you stand out and maximizes your success. From pre-scheduling appointments to engaging booth ideas and creative swag, our blog post has you covered!
CONTENTS: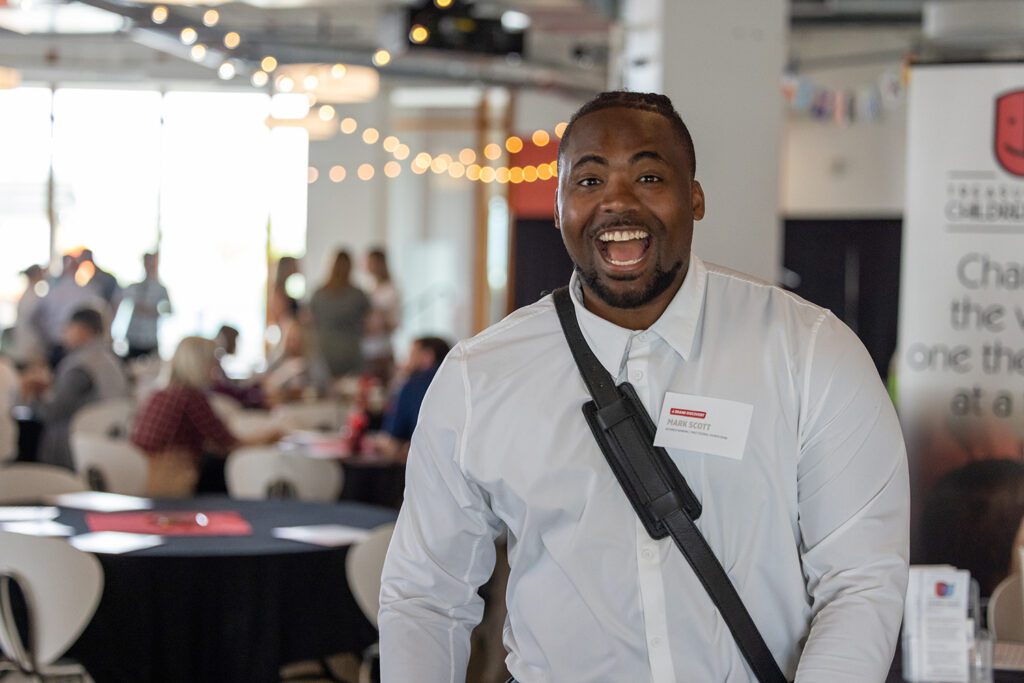 Don't settle for blending in—stand out, make waves, and be the talk of the trade show without having to resort to juggling chainsaws (unless you're really good at that). Let's make your next event a resounding success!
Pre-Scheduling Appointments: Your Path to Trade Show ROI
Why passively wait for people to come to your booth? Take control and set up meetings with your top prospects in advance. Here's how:
Get your hands on the attendee list as early as possible and start reaching out. You'll need to start your outreach at least 3 months ahead of the event, so don't wait until you get the current year's list – start with last year's list, then adjust when you have new information.
Scrub the list to focus on your top prospects, then augment their contact information. Find them on LinkedIn and gather email addresses if you can.
Once you've identified your key targets, start reaching out early! Invite them to join you for dinner or a coffee meetup. Or research local attractions where the trade show is being held and plan a fun outing. Top Golf is always a popular choice, but look for ideas that will appeal to your target audience!
Be proactive, set your expectations, and be willing to put in the grunt work. It might take 100 messages to get 10 meetings scheduled, and of those 10 meetings, maybe only one will be a great fit and become a customer. Don't be discouraged about the "misses" – every appointment is a win, and even one new customer makes the effort worth your while.
Plus, you're gathering great information about what approaches work well for you and what might need to be tweaked. Test your outreach scripts and take note of the results. Did one of your messages get a lot of replies? Did one of them flop? Notice what works and double down!
Bonus tip: Be a good friend to the event organizer! They want to help you – your experience at the event matters to them. Reach out and say thanks, send a nice gift, make sure they know you appreciate all the work they put in to make the event successful.
Stand Out by Being More Fun: Interactive Booth Ideas to Engage Trade Show Leads
Trade shows don't have to be all business and no play. Inject some playfulness into your booth to attract attention. Making your booth a fun experience is the most creative trade show strategy there is!
Instead of the typical business card fishbowl, create interactive games for a chance to win your awesome swag. Set up a ring toss or a mini-golf putting green. People love having fun, so give them a reason to remember you!
Fun trade show booth ideas that get people engaged and excited:
Challenge their skills with a contest: Bring a skill-based game that attendees can play for a chance to win exciting prizes.

Set up a mini basketball hoop and challenge visitors to showcase their shooting skills.
Create a memory game where attendees need to match product features or industry terms.

Three words: Inflatable Axe Throwing.
Make your game hilariously memorable by introducing a surprise challenge. Take a skills-based game and make it harder:

Have visitors shoot baskets while blindfolded.
Have them putt to win with one hand behind their back.
Or, steal this idea from SOLV: Drunk goggles cornhole. It's at least 8x funnier than it sounds. 🤣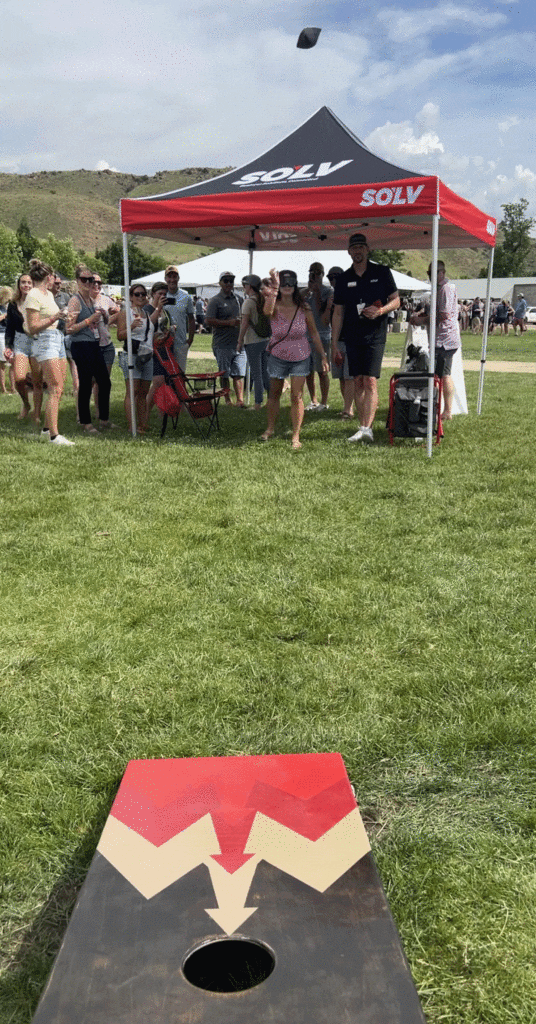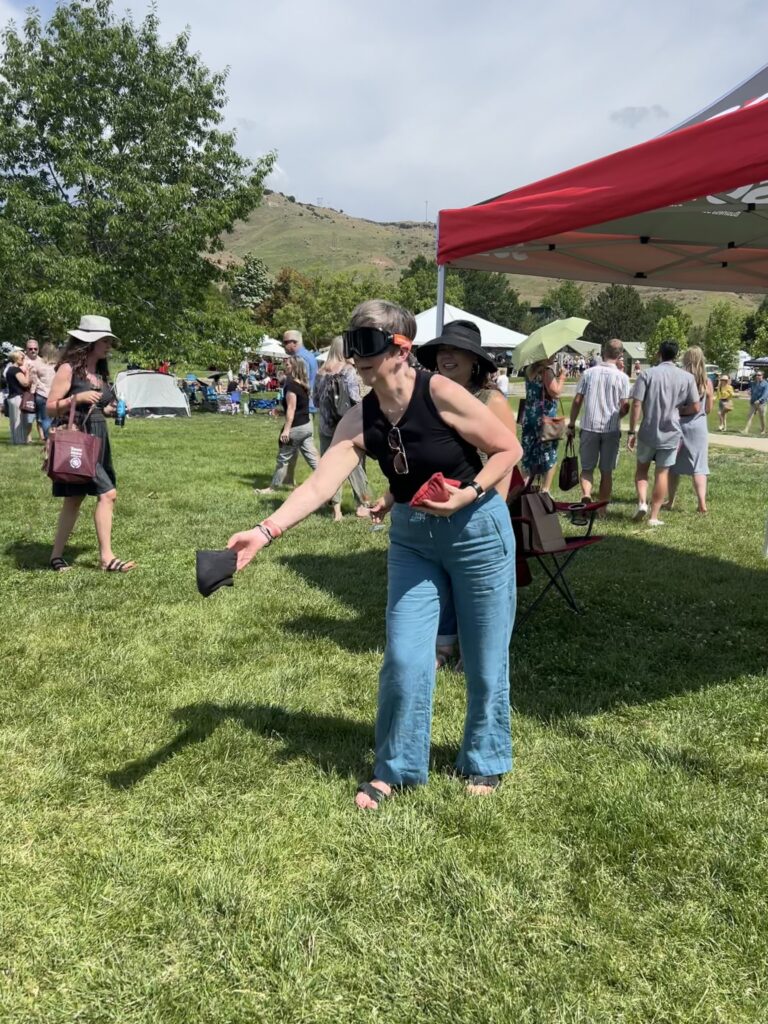 Gamify interactions in your booth! Create a scavenger hunt where attendees need to visit different sections of your booth to collect points or solve riddles. Offer a leaderboard with rewards for the top participants. (We used a gamified strategy at our last Connections event, and our vendors said it was the most attendee interaction they'd ever experienced at a show!)

Go for an even bigger win/win: Expand the game by teaming up with other exhibitors at the show - sending attendees to each other's booths to complete the hunt. You'll develop potential referral partner relationships while you make the experience more compelling for your visitors.

Make it a party with a photo booth: Provide fun props and backdrops related to your products or tied in with the event theme. Encourage attendees to take creative photos and share them on social media using your event hashtag.

Take your social share hashtag to the next level by setting up a screen where they can see their photo live in the feed; better yet, set up a competition and give a grand prize for the photo that gets the most likes or comments during the event.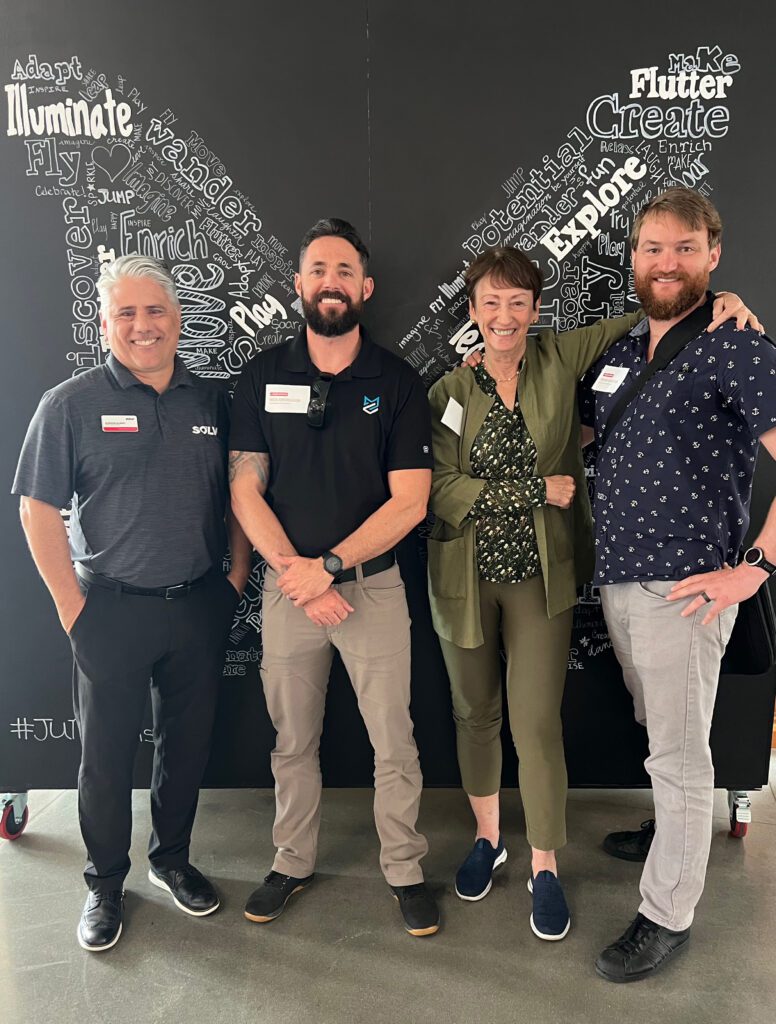 Infusing fun into your booth gets people talking about your company and makes them look forward to engaging with you again.
Building your Trade Show Survival Kit
No matter what you bring to engage with attendees at the show, let's face it: YOU are the main attraction. You're there to talk to people, and you need a lot of energy to be fully present and get the most out of the experience.
Give some thought to what you'll need to keep your energy flowing and take great care of yourself throughout the event. At a minimum, make sure to pack these things to keep you going:
Branded Tote Bag: Take a sturdy, reusable bag to hold all the kit items and other materials collected during the trade show.
Comfortable Shoes: Trade shows involve a lot of walking and standing, so including comfortable shoes or insoles can save your feet - and your mood! Smiling and chatting with people all day is a lot easier when you're not distracted by smashed toes.
Snacks and Water: Keep energy-boosting snacks like granola bars, trail mix, or individually packaged snacks, along with a water bottle, to keep you hydrated and nourished throughout the day. Bonus points: invest in a logoed, insulated water bottle that keeps your company's brand front & center AND keeps your water chilled all day long.
Hand Sanitizer: Trade shows can be crowded, and it's important to prioritize hygiene. Include a travel-sized hand sanitizer to keep your hands clean.
Business Cards: Make sure to bring plenty of business cards to exchange contact information with potential leads and network with other attendees. It seems obvious, but it's amazing how easy it is to forget these. Keep a stack tucked into your go-to bag.
Notebook and Pen: Keep a small notebook and pen handy for jotting down important notes, contact details, or ideas that may arise during the event.
Portable Phone Charger: With all the networking and information exchange happening, it's crucial to keep your phone charged. You may or may not have power available at your booth, so a portable phone charger ensures you stay connected.
Breath Mints or Gum: Freshen your breath before engaging in conversations with potential clients or colleagues.
Pain Relievers: Headaches or minor aches can occur during a long day at a trade show. Make sure you're prepared to head them off before they knock you down.
Band-Aids: Blisters or small cuts can happen when you're on your feet all day. Have some adhesive bandages on hand for quick first aid.
Business Card Holder: Keep your own business cards organized and easily accessible with a stylish business card holder. It looks so much better on your table than a random stack of cards.
Tools: Flat / Phillips screwdriver, box cutter, tape, scissors, zip ties, maybe a small flashlight. You may not need them, but you never know when you might run into an issue and have to get creative with your booth setup - or save the day for one of your fellow vendors.
The beauty of building your trade show survival kit is that you can create a truly impressive, comprehensive brand experience. Everything on the list above can be custom-branded - yes, even the shoes!
Also, you can use the same concept to create amazing giveaways! Your attendees face a lot of the same challenges you do at the show, and you can be their hero by putting together a thoughtful package that helps them get through it. Check out our Brand Discovery Survival Kit and our Hangover Kit (below) for inspiration & ideas!
Trade Show Swag that Wows: Creative Swag Ideas that make an impact
We all know swag is a staple at trade shows, but the days of disposable trinkets are long gone. A truly creative trade show strategy considers the greatest value instead of the lowest price. Read on for ideas that will help you give away something special that aligns with your brand and stands out.
Notebooks are popular because they're useful, but cheap ones make a weak impression. Opt for high-quality notebooks with soft-touch covers, or debossed journal books that exude elegance and sophistication.
Come up with a swag design that relates to the event's theme or your booth's concept. A catchy or funny tagline can take your giveaway from boring to BOOM!
To take it up another notch, consider creating themed kits. Package smaller items together in a cohesive and creative way, like our Brand Discovery Survival Kits & Event Hangover Kits (details below) or our themed Western Swag Box. Whether it's a survival kit, a relaxation package, or a productivity booster, kits make an impression. Attendees remember not only the individual items but also the thoughtfulness and effort behind the packaging.
Pro tip: Bring a selection of higher-end giveaways to use as game prizes. This adds an element of exclusivity and excitement to your booth. It's like having a secret VIP club where lucky winners walk away with something extra special.
Here are a few of the most creative trade show swag ideas we use to stand out:
Stickers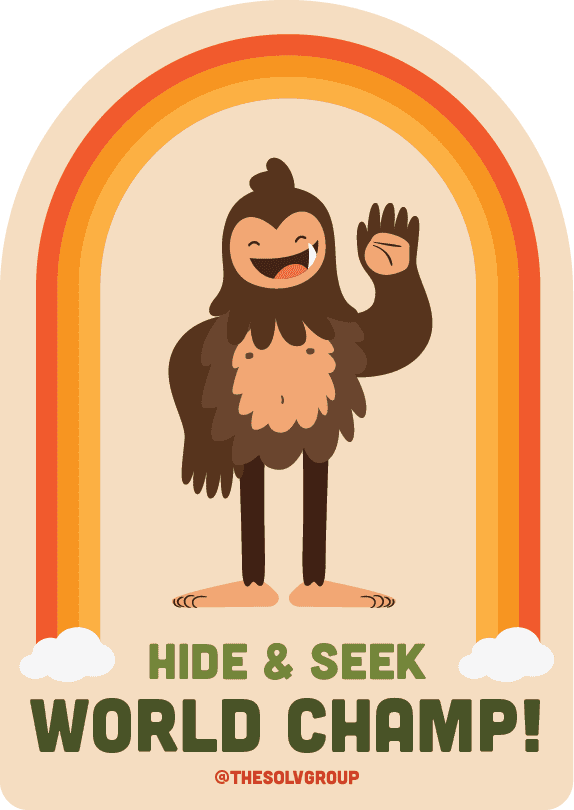 We love stickers! Our creative designer comes up with the best ideas! And we know from experience that the best stickers to give away are:
High quality – Shell out for outdoor quality, UV-coated stickers that stay put on a water bottle. Nobody likes stickers that shred and peel.
Fun/funny - Explore a lighthearted concept related to your brand personality or products.
Not a blatant advertisement. When you incorporate your logo or website, make it a subtle reference to your brand so people don't feel like you're asking them to be a walking billboard for your company.
Brand Discovery Survival Kit & Wrapped Mugs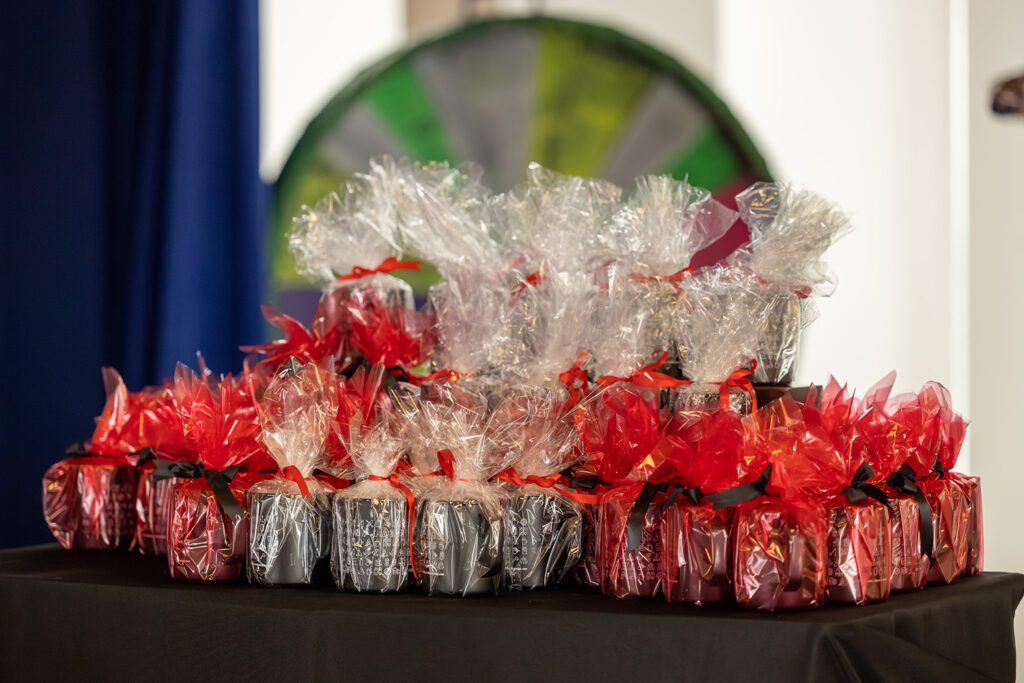 Even a simple idea automatically feels more impactful with the right packaging. We took a simple (but quality!) notebook and pen, paired them up with some fun stickers and an info card, and packaged them in a cello bag with red crinkle paper and a branded, themed foldover top. And we didn't just settle for doing cool travel mugs - we added a colorful cello wrap and a ribbon. The packaging gave the attendees the feeling of unwrapping a gift, and we got feedback that they loved the ideas.
Hangover kits
On a similar note, we packaged up some simple (yet thoughtful!) supplies for the latest Meridian Chamber golf tourney – ibuprofen, hydration powder, Emergen-C – in a small cello bag with a "Hangover Kit" foldover top.
(Not that people drink at golf tournaments. Naw. We didn't see any of that.)
A little bit of thoughtfulness and humor can go a long way toward creating a memorable experience.
Wearables - Are T-shirts or hats better for tradeshow giveaways?
T-shirts are always popular! Figuring out how many of each size to order can be a challenge though, so hats are often a more flexible way to go. Whether you decide to give away a T-shirt or a hat, remember these tips:
Choose a quality garment people are going to feel good wearing.
Make the design fun – think of a funny slogan related to a pain point your product or service helps resolve . . .
. . . or go for a cool design related to the theme or location of the trade show.
If you get specific – using the year, location, or name of the trade show in your design – you won't have the flexibility to repurpose any leftover stuff for a different purpose . . .
. . . but on the other hand, if you incorporate the year and you come back year after year with creative, fun designs, you develop a reputation - your giveaways become a collectible that people look forward to getting every year!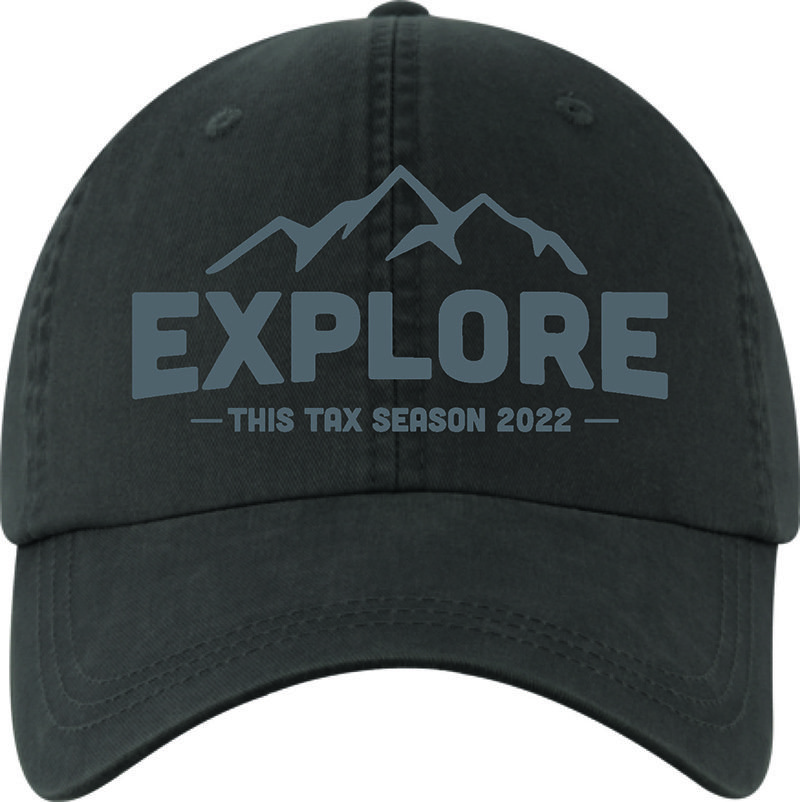 The hottest trade show giveaway trends:
Eco everything.
Caring about the planet isn't optional! This is more than a trend, it's a complete shift in the way people think about the products they use. Associating your brand with products that are sourced ethically and sustainably is essential.
Fortunately, manufacturers are taking notice of this, and you have a lot of options - everything from notebooks and drinkware to bags, wearables, and tech gadgets. Here are some of our favorite new eco-friendly tradeshow giveaway ideas:
tentree Hoodies, Tees, and Blankets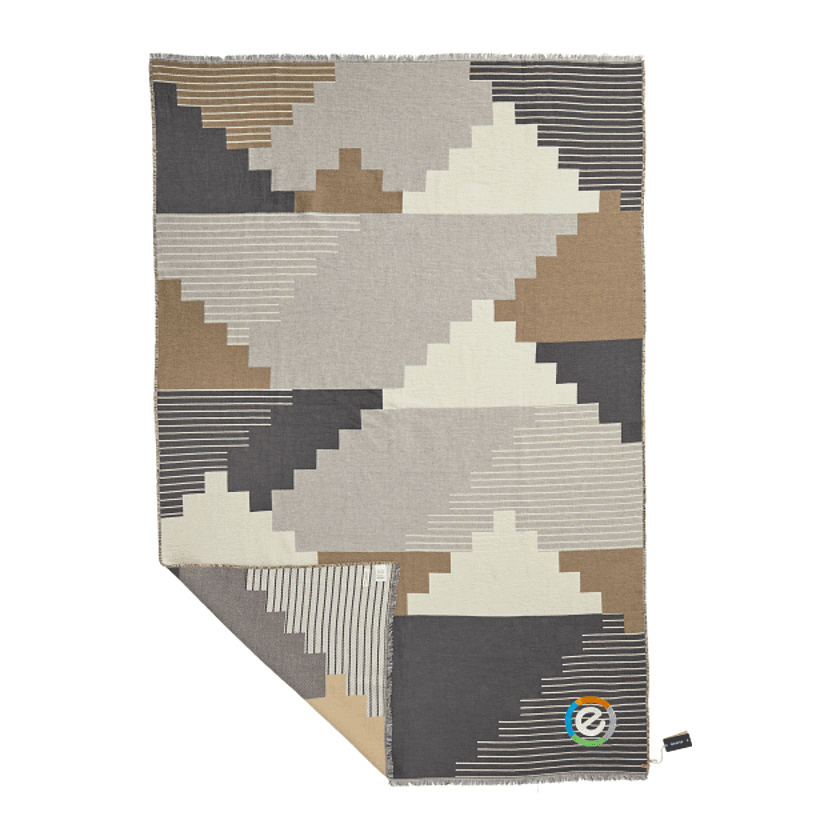 tentree makes Earth-First essentials using the most sustainable (and comfortable) materials in the world. By planting trees (you guessed it, ten of them!) for every purchase, tentree is making big change accessible to everyone and showing the lasting impact one small choice can have.
Nimble sustainable wireless chargers and power banks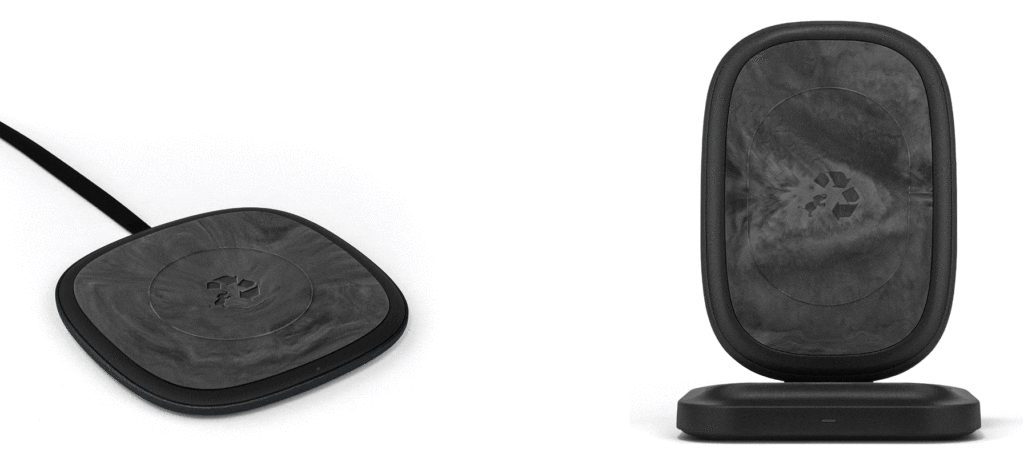 Nimble is the world's first tech hardware brand with a 100% sustainable business model. Make your next branded giveaway a premium, ethical tech product that's better for the planet, incorporating sustainable materials, using 100% plastic-free packaging and recycling old tech for free.
ChicoBag's reusable, recycled shoulder tote & crossbody tote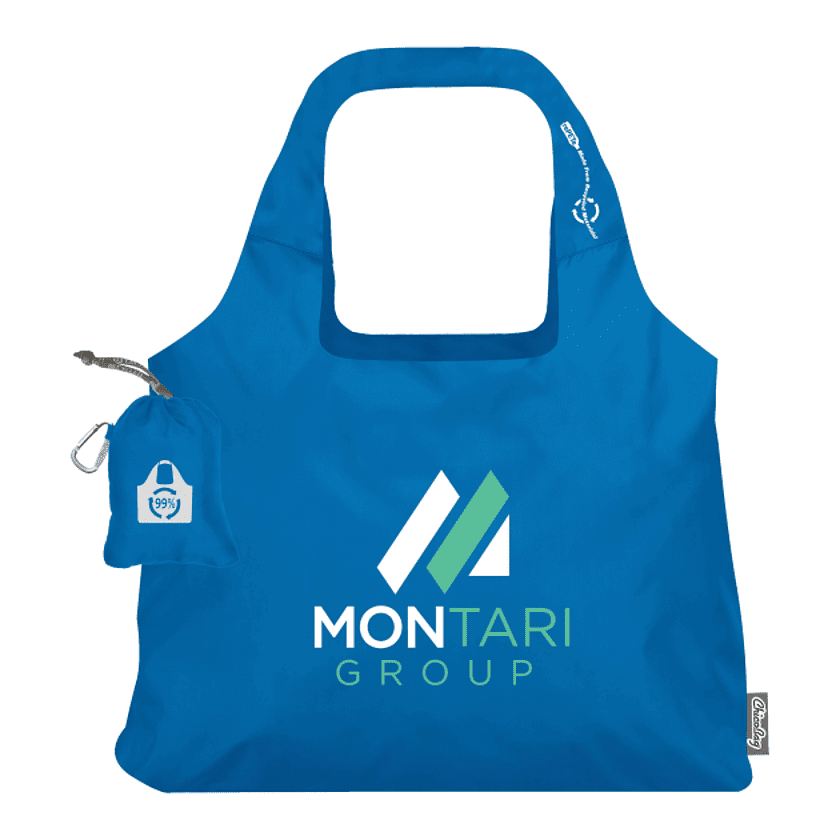 By exchanging wasteful single-use bags for high-quality, long-lasting, reusable products, ChicoBag protects our planet from pollution and preserves its beauty for generations to come. The fabric is GRS Certified (100% post-consumer recycled plastic bottles) and waterless dyed. Plus, they're easy to keep on hand for those last-minute shopping trips: ChicoBag totes stuff into sewn-in pouches, making them easy to carry and store. A carabiner allows you to clip the pouch to a keychain, purse or backpack.
High-end drinkware
Did anyone ever like those cheap plastic cups with the huge one-color corporate logo that flaked off in the dishwasher? If that ever seemed like a good option for event swag, those days are over. People want something high quality that stands up to their lifestyle, something they can use for a long time.
Urban Peak® Harbor Trail Camp Mug
We love this mug! It feels nice in your hand, and the matte finish and overall design have a high-end feel that's easily equivalent to a popular, more expensive retail brand (the one that rhymes with "manly") at a lower price point.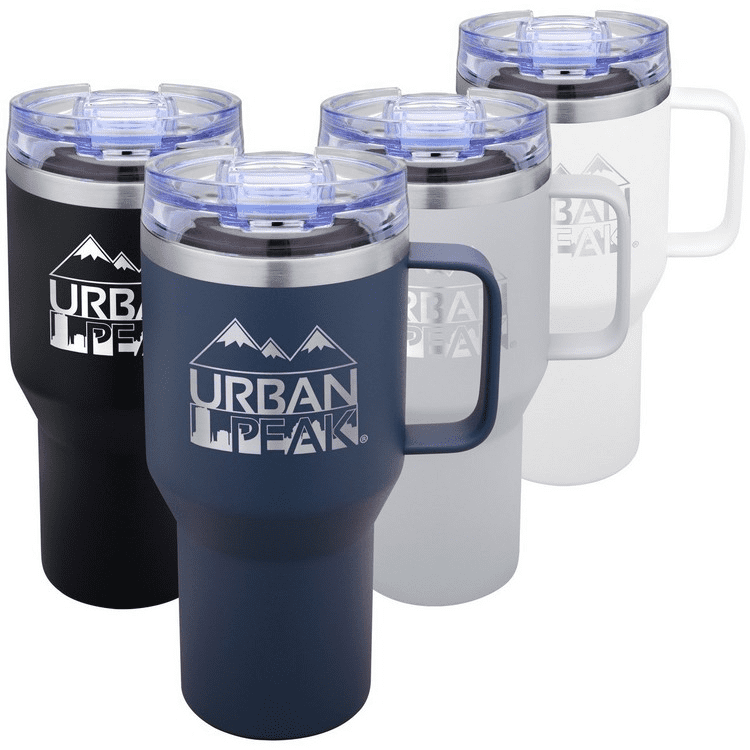 Asobu® insulated beer, wine, and whiskey sleeves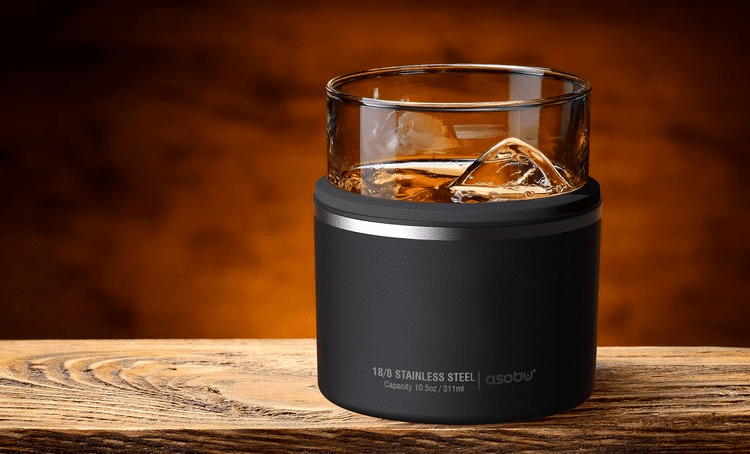 Inspired by Japanese culture, asobu means fun and playful, and you can see that philosophy front and center in the design of their products. We love their gorgeous, insulated drink sleeves - they're elegantly designed and top quality, keeping drinks hot for 12 hours or cold for 24. This "On the Rocks Cooler" is a great high-end giveaway!
Ready for more on-trend giveaway ideas for your next event? Start the conversation here, we'd love to help!
The Power of Automation: Follow-up Tactics for Nurturing Trade Show Leads
Picture this: you had a lot of great conversations and successfully gathered a treasure trove of valuable leads at the trade show.
You take a fat stack of business cards back to your desk after the event. You have the best of intentions to follow up with everyone, but you're busy – there's a lot to catch up on, because you've been out of the office at a trade show! So you put off contacting those leads. One more day won't hurt, right?
Every day, you look at that stack and think, I should really do something with those. You feel a little bit worse about yourself every time.
Next thing you know, it's five weeks later and that stack is still sitting there, staring at you like a big pile of guilt and missed opportunities.
We all know that follow-up is a critical component of trade show success. Yet it's the easiest piece to put off (and keep putting off, until those warm opportunities are ice-cold). Even the best, most creative trade show strategy won't gain you business without follow-up. It's time to ensure those connections don't fade away into oblivion.
The key is to make it as easy as possible to stay in touch, and automation is your ticket! Let's explore some detailed ideas on how to automate your trade show follow-ups:
Capture digital information at the show: Instead of relying on manual note-taking or collecting business cards, leverage technology to streamline the process. Equip your team with tablets or smartphones to collect leads' contact details directly. Use lead capture apps or custom forms that integrate seamlessly with your customer relationship management (CRM) system. This way, you'll ensure accurate and centralized data for further automation.

Test before the event to ensure compatibility between your lead capture tools and CRM platform. This integration eliminates the need for manual data entry, saving you time and reducing the risk of human error. The quicker you have your leads securely stored, the faster you can initiate automated follow-up sequences.

Craft an automated email sequence: Automation allows you to create a well-timed and personalized email sequence that keeps your leads engaged.

Kick off the sequence the day after the trade show with a simple yet heartfelt thank-you message. Express your gratitude for their visit and ask them about their favorite aspects of the event. This not only reinforces your connection but also prompts them to reflect on the positive experiences they had at your booth.
Provide value with resourceful content: A couple of days after the initial thank-you email, send your leads a valuable resource related to your industry or their specific pain points. This could be a concise checklist, a quick-read article, an informative video, or a helpful recommendation. Make sure the content delivers a quick win or actionable insights that they can apply immediately. By providing value, you establish yourself as a trusted resource.

Personalize follow-up phone calls: Automation doesn't mean losing the personal touch. Set a task for yourself to personally follow up with a phone call a few days after delivering the resource. This call serves as an opportunity to deepen the connection and gather feedback. Start the conversation by referencing the resource you provided and ask for their thoughts or any questions it may have triggered. Engage in a genuine conversation, actively listening to their needs and offering further assistance tailored to their specific situation.
Monitor and Adapt: Throughout the automated follow-up process, it's crucial to monitor engagement and response rates. Analyze email open rates, click-through rates, and any subsequent actions taken by your leads. This data provides valuable insights into their level of interest and engagement. Use these analytics to refine your email sequence, making adjustments based on what gets the best results.
By automating your trade show follow-ups, you make it easy to maintain the connection beyond the trade show floor. This systematic approach ensures consistency, saves time, and helps you focus on building relationships rather than getting lost in a sea of manual follow-ups. Embrace automation, personalize where it matters, and keep the conversation going to maximize your trade show ROI.
Win the Trade Show Game with SOLV
To recap – here's a simple checklist to amplify your trade show results.
When it comes to trade shows, we've walked the walk, and we'd love to help you show up big at your next event. Get swag ideas here or contact us to start a brainstorming conversation!